Cristiano Ronaldo: The Greatest Ever? | In Numbers |
23033 |
Cristiano Ronaldo: The Greatest Ever? | In Numbers
03:05 | Diagonal View
Cristiano Ronaldo: The Greatest Ever?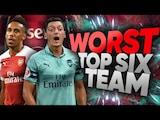 Will This Be Arsenal's Worst Season Ever?! | #SundayVibes
39:03 | Diagonal View
REVEALED: Real Madrid Close to Signing Thiago Alcantara From Bayern Munich! | #VFN
13:37 | Diagonal View
Corporate Site l Privacy l Terms l Help
© Vuclip, Inc. 2008-16. All rights reserved.